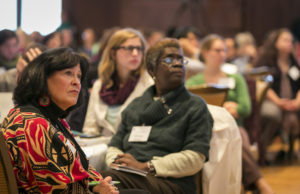 From our signature Diversity Forum which is open to the entire campus and community to faculty receptions and cultural heritage celebrations, the Office of the Vice Provost & Chief Diversity Officer along with the Division of Diversity Equity & Educational Achievement hosts an annual series of events to learn and share about diversity practices and issues, salute the achievements of diverse individuals on campus and in the community, and to instruct and celebrate traditions with our students.
Our events are designed to fill people-centric needs at myriad levels of diversity and inclusion. We work with countless faculty and administrative partners, experts, student organizations and facilitators to offer quality events and programming on both an ongoing and as-needed basis, while always valuing innovation and the best practices that will move our work toward excellence.
The result is a campus where every individual can feel included, respected and recognized for all aspects of their identity, as well as be ensured that fearless educational "sifting and winnowing" prepares and empowers them to realize the traditional Wisconsin Idea to influence people's lives beyond the boundaries of the classroom.
This is an accordion element with a series of buttons that open and close related content panels.
Annual Diversity Forum
The UW-Madison Annual Fall Diversity Forum, hosted by the Office of the Vice Provost & Chief Diversity Officer and the Division of Diversity, Equity & Educational Achievement, is  where faculty, staff, students, and the community can engage in dialogue around diversity and inclusion. At the Annual Deans' Diversity Retreat, Vice Provost Patrick J. Sims also works closely with the Deans of the schools and colleges to explore and learn issues related to diversity and inclusion and how it relates to leadership.
Learning Communities for Institutional Change & Excellence (LCICE)
Cultivating Inclusive Practice through Dialogue
LCICE is a unit in the Division of Diversity, Equity and Educational Achievement (DDEEA) that offers academic-year and semester-long Learning Communities (LCs) to help build institutional capacity to implement our strategic diversity initiatives and develop our abilities to engage effectively in a globally interconnected workforce and world. The success of this university in its mission as a world-class teaching, research, and public service institution depends on nurturing a diverse body of students, faculty and staff to foster innovation and excellence.
To achieve this mission, the Learning Communities provide a forum for active participation in dialogue focused on creating working, learning, and teaching environments where everyone is heard, valued and included. Through dialogue, one learns how to engage in transformative changes of behaviors, policies, and procedures that collectively impact the campus climate for ALL community members. Click here to learn more.
Student SEED (Seeking Educational Equity and Diversity)
Student SEED is a non-traditional, grass-roots developed social justice course which uses "the textbook of students'lives as the main teaching tool. Students explore and share their own individual experiences with race, class, gender, sexual orientation, religion,. and ability ion order to learn about and understand the large systems of privilege and oppression. The course facilitators strive tpo create a safe and respectful environment for students to reflect on an share their own experiences, learn from their peers' experiences and build community while engaging in deep critical thinking around issues that are pervasive in our society and daily lives.
SEED seeks to create a respectful environment for students to engage in conversations about the impact of race, class, gender, sexual orientation, ability and other defining aspects of identity on their personal lives, on their communities and in society as a whole. Unlike most UW classes, SEED students are expected to share their own personal stories and feelings regarding these aspects of identity in order to learn from each other and learn about themselves. We will also use readings, videos, reflective writing, and group dialogue to further students' learning and understanding.
Course Impact: To give you an idea of how past participants feel about taking Student SEED, here is a video they created: http://www.vimeo.com/15363128. Click here to learn more about the course.