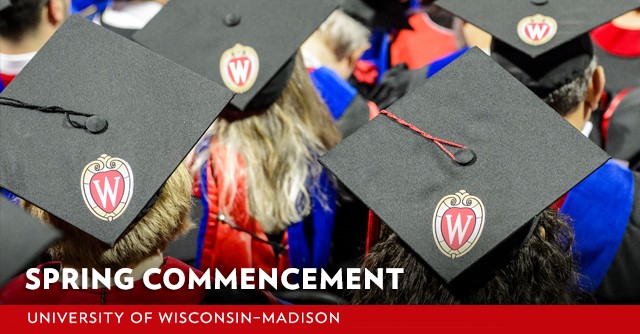 Graduates of the Class of 2018,

We are looking forward to celebrating with you in just a few weeks. Please make note of the following events which have been organized as part of the Countdown to Commencement. We hope that you are able to find time to take advantage of some of these opportunities to connect with fellow graduates, and bask in your accomplishments before the big day! Be sure to check out the Senior Class Officer website for more information.

Get to know your Commencement Keynote Speaker, David Muir, Anchor of ABC World News Tonight, starting on Monday, April 23. Follow the Senior Class Office Twitter and Facebook accounts for a daily trivia question through Friday, April 27. Special ABC News prizes will be awarded to graduates who answer the most questions correctly over the course of the week. Be sure to catch David each evening as he reports the news of the day.

Photos with Abe
Get your photo taken atop the Abe Lincoln statue on Bascom Hill. Caps and gowns will be provided for photos taken on Thursday, April 26, and Wednesday, May 2, from 10 a.m.–2 p.m. Check out the Facebook event for more information and for weather related updates. For a recommended $10 donation, students will receive a professional photo to take home. All proceeds support the Half Century Badger Scholarship Fund—providing scholarship support to incoming students. This event is hosted by the Senior Class Officers in conjunction with the Wisconsin Alumni Association.

Graduate Portraits
If you'd like to get a professional photo taken in your graduation attire, Graduate Portrait sessions will be held on April 30 and May 2 at Memorial Union, 8 a.m.–8 p.m. See TITU for room location; pre-registration is recommended.

Photos at Camp Randall on the 50-yard line
Get your photo taken on the Motion W of the 50-yard line on May 5 from 11 a.m.–2 p.m. Visit the Facebook event for more information and weather related updates.

Cap Decorating Cappy Hour
Decorate your cap to showcase your unique experience with glitter and more! Friday, May 11, from 4 p.m.–6 p.m. in the Sett, Union South. All art supplies are free and available for your whimsy.

Bucky on Parade Graduation Statue Unveiling
Come see the Bucky on Parade Graduation Statue unveiling at the top of Bascom Hill on Monday, May 7, from 10:30 a.m.–12 p.m. Programming begins at 10:50 a.m. and the statue will be unveiled at 11 a.m. Visit the Facebook event for more information and weather related updates.

Share your plans after graduation!
Please take a few minutes to update us: http://go.wisc.edu/gradplans or from the MyUW portal. Your confidential response and the responses of other graduates will be aggregated so that we can tell UW students and the citizens of Wisconsin more about the important contributions and accomplishments of UW–Madison graduates. Your information will also be used to improve our academic programs.

Information about the commencement ceremony will be shared in our next email; watch for it during the week before commencement. If you have questions, visit our website!